Philippe Couillard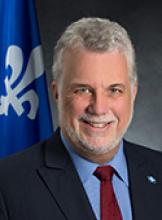 Philippe Couillard
Premier of Québec / Premier ministre du Québec
Born on June 26, 1957 in Montreal, Philippe Couillard earned his doctorate in medicine in 1979 and neurosurgery degree in 1985 from Université de Montréal, a specialist certificate from Collège des médecins du Québec and a specialist certificate from the Royal College of Physicians and Surgeons of Canada in 1985.
Mr. Couillard served as Chief Surgeon in the Department of Neurosurgery at Hôpital Saint-Luc from 1989 to 1992 and co-founded the Dhahran Department of Neurosurgery in Saudi Arabia, working there from 1992 to 1996. Subsequently, he was a Faculty of Medicine professor at Université de Sherbrooke from 1996 to 2003 and Chief Surgeon and Director in Centre Hospitalier Universitaire de Sherbrooke's Department of Surgery from 2000 to 2003.
From 1999 to 2003, he served as the Canadian representative on the Board of Directors of the Société de Neurochirurgie de Langue Française. He sat on Royal College of Physicians and Surgeons of Canada's Board and Committee of Public Affairs and Policy Research from 2000 to 2003.
Philippe Couillard has also been a member of the James IV Association of Surgery since 2002, a partner of PCP (Persistence Capital Partners) Investment Fund, a member of the International Advisory Board established by Saudi Arabia's Minister of Health, a member of the Security Intelligence Review Committee (SIRC), a member of the Amorfix Life Sciences and Thallion Pharmaceuticals Boards and the Chairman of the Canadian Health Services Research Foundation and Quebec Network for Personalized Healthcare. In addition, he was a Strategic Advisor in Healthcare and Life Sciences at Secor in February 2011 and a consultant in a private capacity.
Elected Liberal MP for Mount Royal in 2003, Philippe Couillard was re-elected in Jean-Talon in 2007, serving as the Minister of Health and Social Services in the Charest cabinet from April 29, 2003 to June 25, 2008.
In January 2009, he was the director of research in Health Law at McGill University, acting as a professor until December 2011.
He received the Medicine, Culture and Society Prize from the Université de Montréal Faculty of Medicine in 2006 and the Jacques Cartier Medal in 2007.
At the end of the QLP leadership race, Philippe Couillard had the support of 58.5% of the 3,000 delegates at the convention on March 17, 2013 in Verdun.
On the 7th of April 2014, Philippe Couillard was elected MNA of the electoral division of Roberval, and by the same occasion became the 31st Premier of Quebec.