Become an Exhibitor
Become an Exhibitor
Why Exhibit at EVS29?
EVS is the largest global forum for electric drive technologies and THIS is the event you must attend. Stakeholders from the entire electric drive industry will be represented – including OEMs, utilities, EVSE network operators, component manufacturers, fleet operators, and other end users – as well as global leaders from government and academia. Do not miss this opportunity to promote your latest innovations on the world stage!
How to Exhibit at EVS29
Participate in the largest electric drive exhibition in the world – reserve your space today! Choose prime exhibit space and lock in early-bird rates NOW. Showcase your products and services for 2,000+ professionals representing the electric drive industry's leading manufacturers, suppliers, and customers.
EVS29 Sponsorship & Exhibit Prospectus Book Your Space Now!
Click the image to view an interactive guide to the floor plan: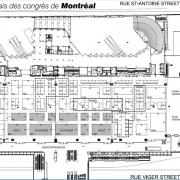 Venue
Palais des congrès de Montréal
1001 Place Jean-Paul-Riopelle
Montréal QC H2Z 1H5 Canada
Room: Exhibit Hall - 220 ABCDE
Questions on Exhibits?
Contact:
Marie Lou (玛丽露) Coupal, CMP
Sales Director – EVS29 c/o JPdL International
Phone: +1 514-287-9898 Ext: 225
Email: sales@evs29.org
Skype: marieloucoupal1
LinkedIn: Marie Lou Coupal