Chantal Guimont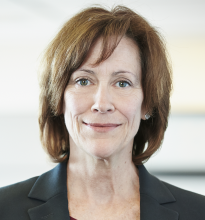 Chantal Guimont
Chantal joined Electric Mobility Canada (EMC) in September 2014 as its new President and CEO. EMC is the only Canadian association dedicated to the acceleration of electric transportation. She represents its member's interest in policy development, technical matters, market evolution of EVs and all other modes of electrified transportation applicable to public transit, off road vehicles, taxis, etc...
EMC works with all stakeholders, federal and provincial governments, and the members of all categories – industries, energy providers, universities, fleets, municipalities, etc. –, holds the only national annual conference on EVs and communicates regularly the latest trends and innovations of the industry.
Before joining EMC, Chantal Guimont was director of strategic planning and led the team on transportation electrification at Hydro-Quebec for the last 5 years. She also was director for regulatory affairs and commercialization in transmission and energy efficiency.