Genevieve Cullen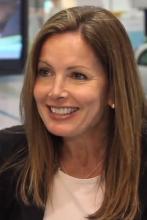 Genevieve Cullen
World Electric Vehicle Association (WEVA); Electric Drive Transportation Association (EDTA)
Genevieve Cullen has served as the President of the cross-industry trade association promoting the electrification of transportation since in 2015. Previously, she served as EDTA's Vice President and lead the organization's policy and advocacy efforts.
Genevieve has extensive public and private energy policy experience, including serving as Energy Counsel to Senator Evan Bayh (D-IN) and as a consultant to the Department of Energy. In her capacity as an advocate for private sector initiatives, Cullen promoted advanced technology solutions to energy and environmental challenges.
A graduate of Washington College of Law and Bucknell University, Genevieve is a member of the District of Columbia bar.